Innovative Quilting Store
Fiberworks is privileged to be recognized as one of the most innovative quilting stores. It's still a thrill for us to have been listed in Better Homes & Gardens' Quilt Sampler 2006 spring issue as a 'Top 10 Quilt Shop'. Thanks to all of you, our wonderful staff and a talented artist/owner!
Recently, we've been working hard to make our online shop just as great an experience as walking through the doorway into our store on Henesta Drive — and we'd love to be one of the top 10 quilting websites, too. So, please let us know how you like our our new site and how we can make it your favorite.
Quilt Patterns
After becoming a proficient, award-winning quilter and fiber artist, Laura started designing her own Fiberworks line of quilt patterns. So next time you ask yourself, "Where can I find quilting patterns?" — look no further, Laura's got you covered! This is only a sampling of her extensive collection: Collage quilt patterns, appliqué quilt patterns, paper-pieced patterns and more!
view all quilt patterns... or just Laura's quilting patterns...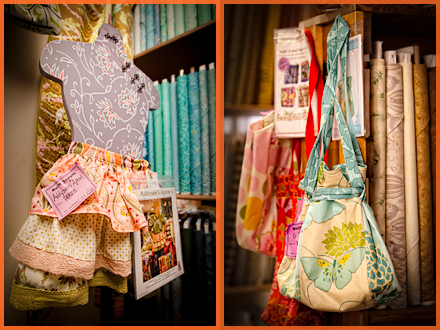 Quilting Fabrics
"I have enjoyed designing my own line of cotton quilting fabric since 1998. My current line of floral quilting fabrics is called 'In My Garden' by RJR Fabrics. You just can't be without this beautiful large-scale floral fabric for quilting!" Laura also designed several new quilting patterns using her new fabric line.
Laura's previous line of western quilting fabric is called 'Hey Cowboy' and was also printed by RJR Fabrics in both regular cotton and flannel. It includes beautiful florals, roses and poppies and a border print with cowgirl sitting on a fence! The rest of the line makes great round up fabric!
Other Featured Quilting Fabrics
See all of our great designer fabrics by Kaffe Fassett, Amy Butler, Martha Negley, Phillip Jacobs, Brandon Mably, and more. View our awesome collection of Civil War Reproduction fabric, our woven, homespun plaids and our fun collection of polka dot fabrics.
Quilting Thread
Fusions Machine Quilting Thread
Laura designed her own line of quilting thread for YLI Threads called Fusions. It is a heavyweight 24/3 Egyptian 100% cotton quilting thread that is meant to be seen! It is strong enough for long-arm, yet great for home machines. This collection of machine quilting thread is a reflection of Laura's well-known flair for gorgeous, innovative use of color in quilts. We also carry many other machine quilting threads for your quilting needs.
Fusions machine quilting thread...
Hand Embroidery Wildflower Thread
We love our Wildflower hand embroidery thread for embellishing and embroidery. It is a high quality cotton thread dyed in varigations or solids and is great for embroidery projects.
hand embroidery Wildflower thread...
Quilting Classes
Our quilting teachers offer a variety of quilting instruction for all levels of quilting expertise, including beginning quilters, even beginner hand quilting.
Laura is especially well known for her free-motion embroidery and machine quilting classes.
All our quilting classes are informative, fun, and downright addictive! You can sign up online or give us a call.
view our quilting classes...
Quilting Kits
There are many reasons to buy a quilt in a kit such as saving you money and the stress of coordinating quilt fabric. Best of all, you can be quilting as soon as you have your quilting kit. We carry all kinds of quilt kits so we're bound to have the perfect kit for you!
see our quilting kits...
Long Arm Quilting Services & Classes
Do you need long arm quilting services to finish your latest quilt? Our talented staff can do just that on our Gammill long arm quilting machines. And if you want to learn to do it yourself, our long arm quilting classes will have you up to speed in no time.
Laura Heine is head fiberchick on the Gammill long arm quilting machines. She can quilt your quilt for you, or teach you all the tricks of the trade and a few of her own! Take a class, or have her quilt your quilt for you!